Streamline your maintenance, maximize your efficiency with advanced
Digital Maintenance Solution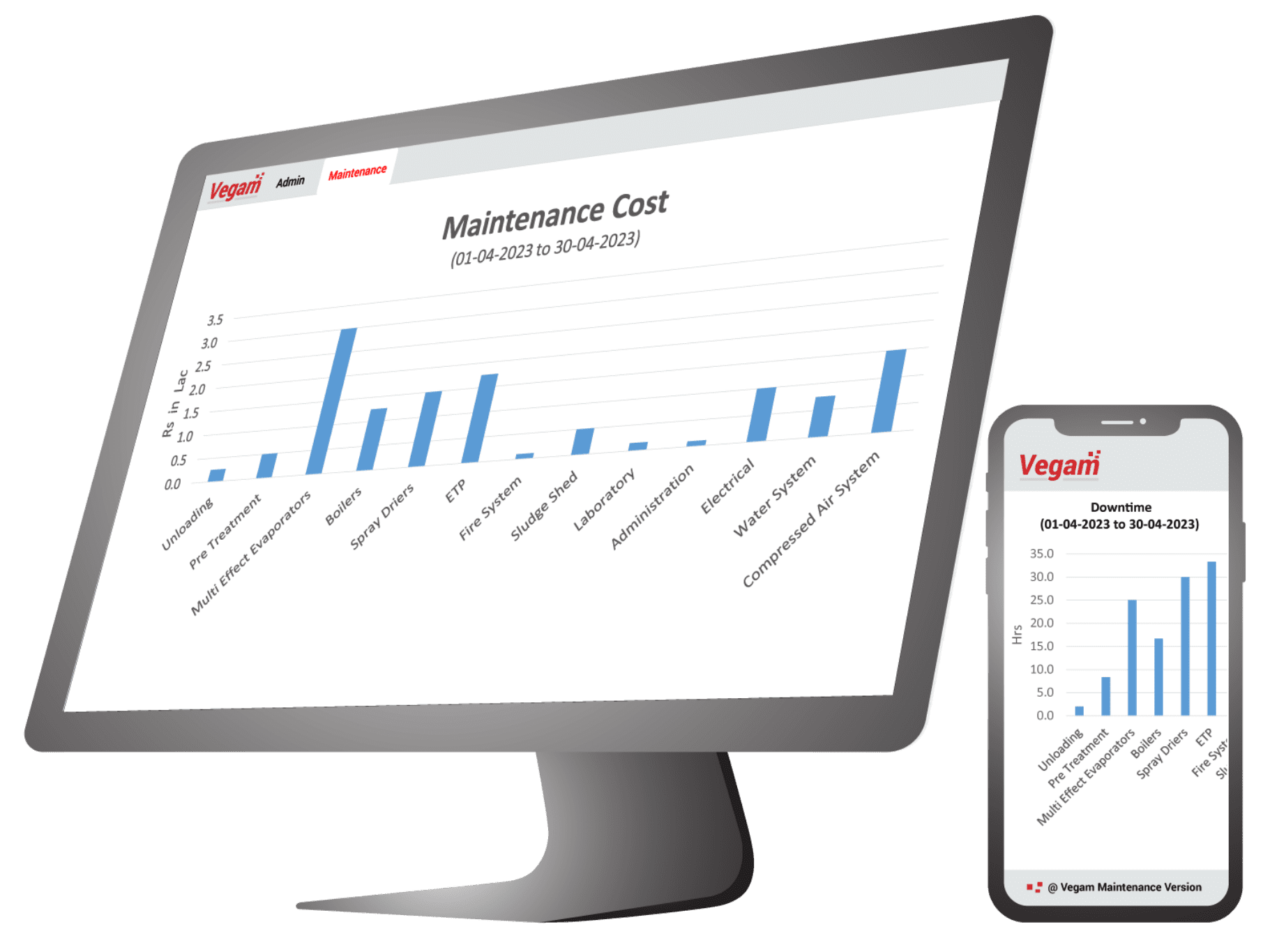 Actionable Dashboard provides real-time data visualizations and insights, performance tracking & analysis, work order management, empowering maintenance teams to make informed decisions, improve efficiency, and drive operational excellence. It enables maintenance teams and managers to monitor performance, track metrics, identify trends, and make informed decisions. By providing real-time visibility and analytical capabilities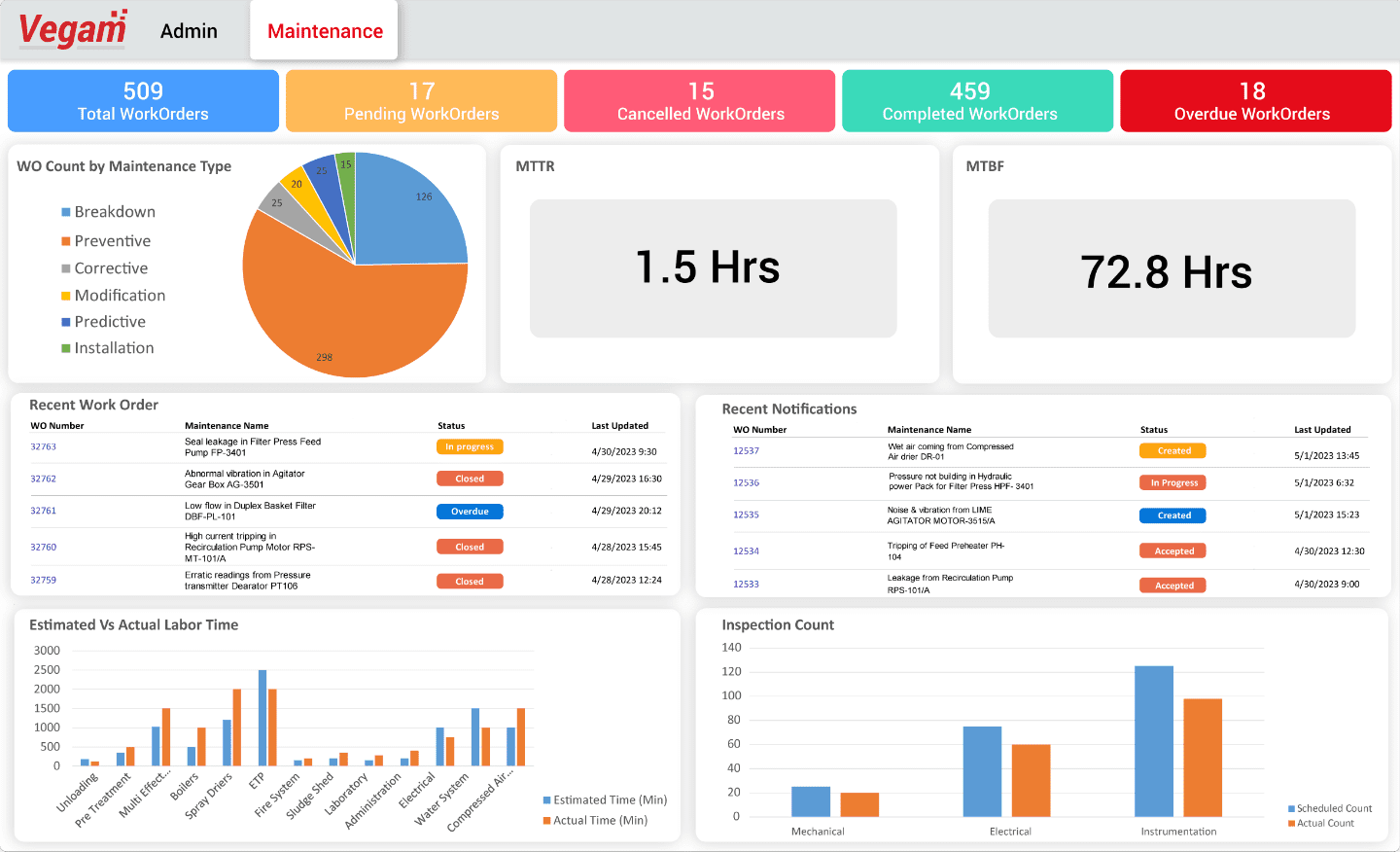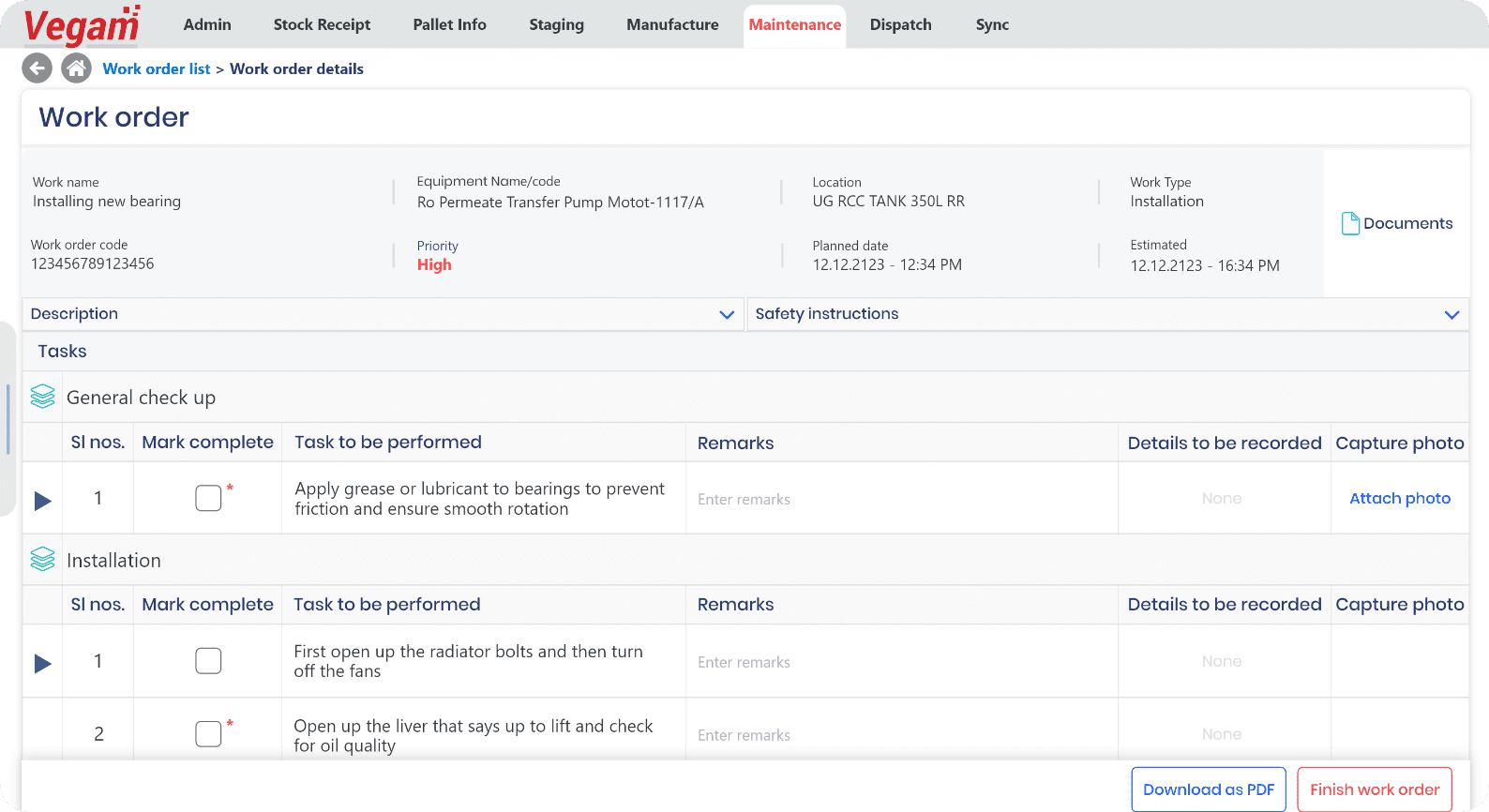 vMaint enables efficient work order creation, assignment, and tracking, ensuring a smooth workflow. It eliminates manual paperwork and automates processes, saving time and reducing errors.
Improved Maintenance Planning
With work order scheduler, you can schedule and prioritize maintenance tasks effectively. It helps you plan preventive maintenance, minimizing unexpected breakdowns, and maximizing asset reliability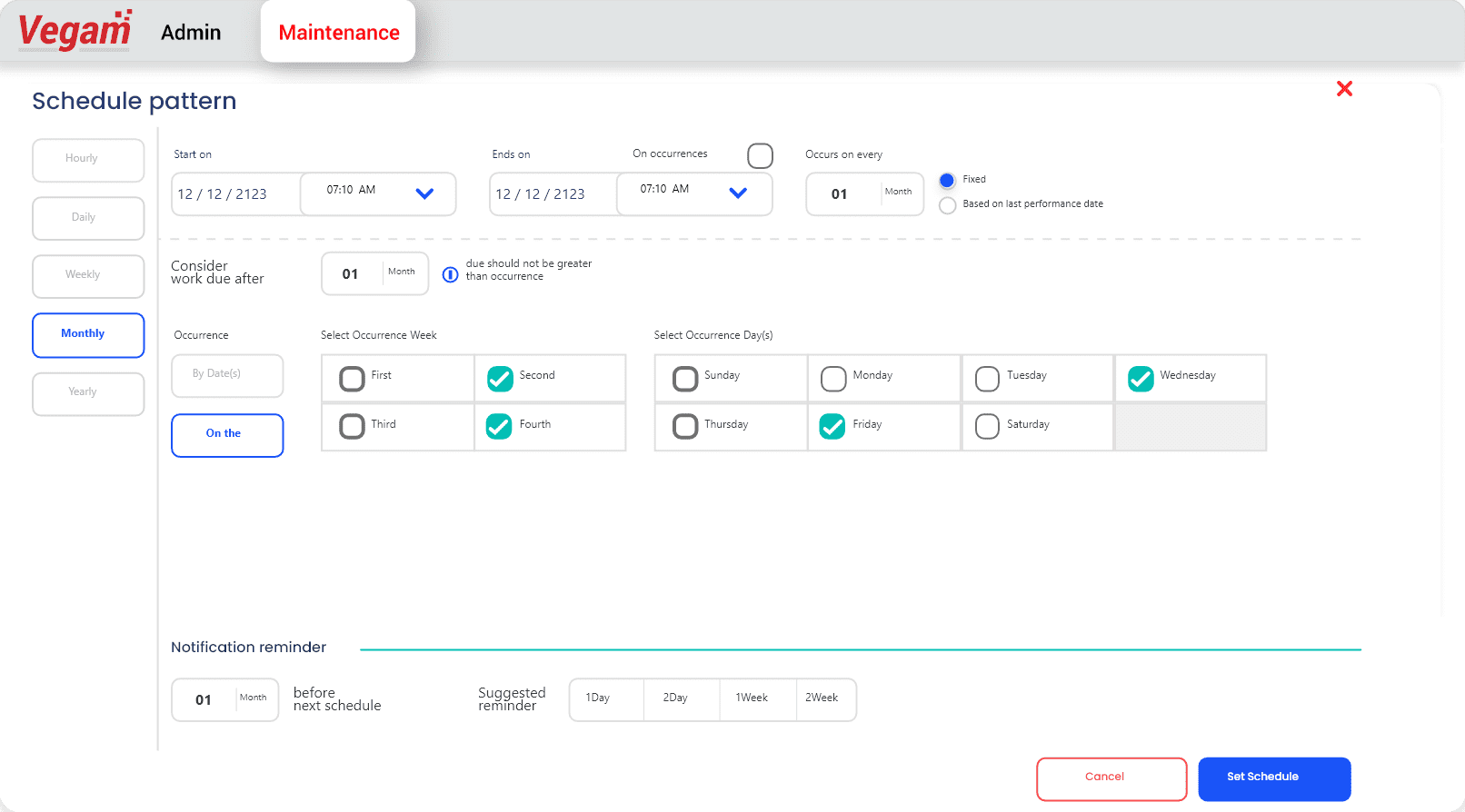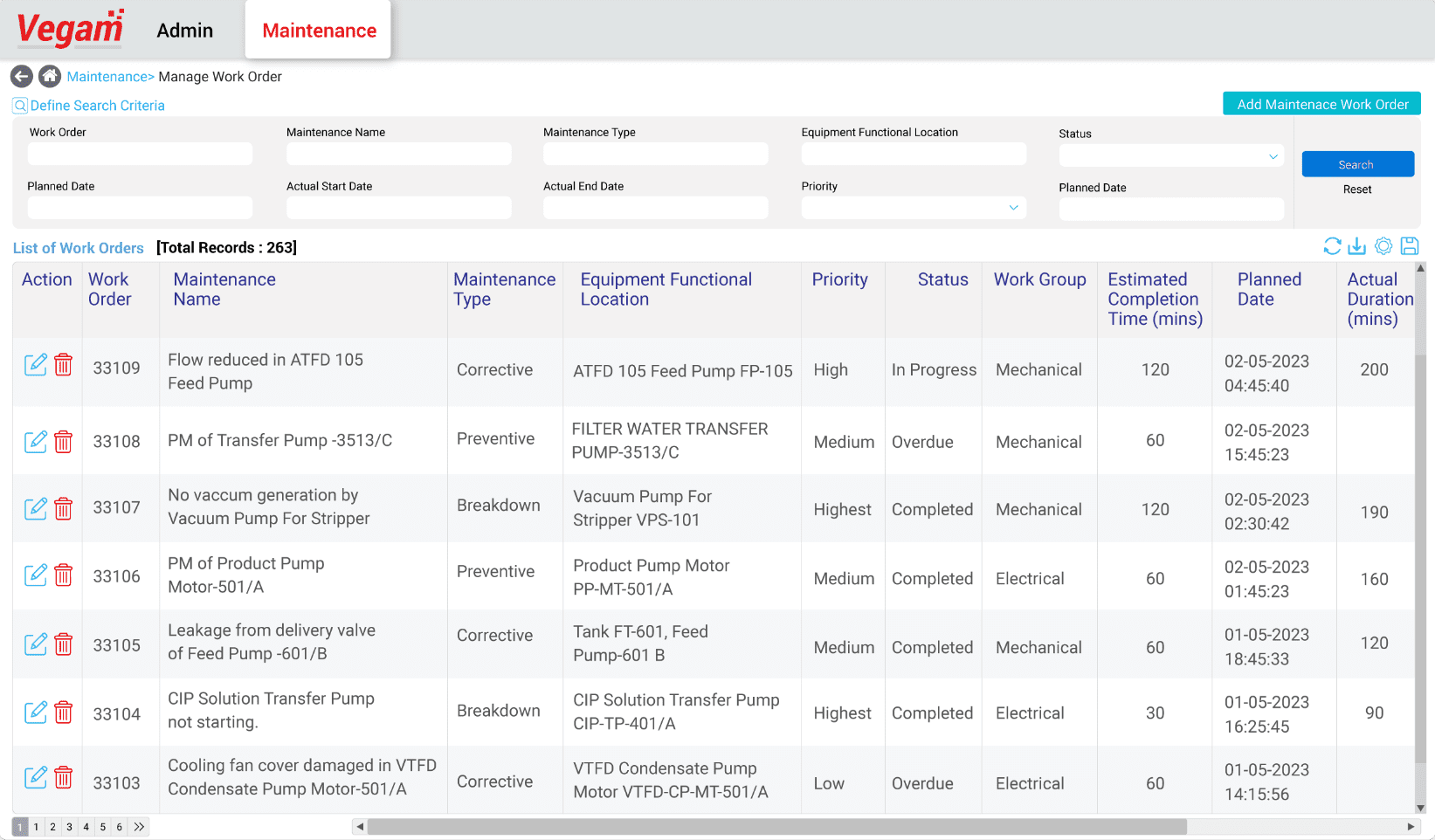 Work order management streamlines and optimize maintenance operations. It helps in work order creation, work order assignment and tracking, prioritization and scheduling, resource allocation, communication and collaboration, historical data and reporting etc.
Increased Accuracy and Consistency
Checklists help improve the accuracy and consistency of inspections. They provide clear instructions and reference points, reducing the chances of human error or oversight. Inspectors can follow the checklist step-by-step, ensuring that all necessary tasks and measurements are performed accurately and consistently.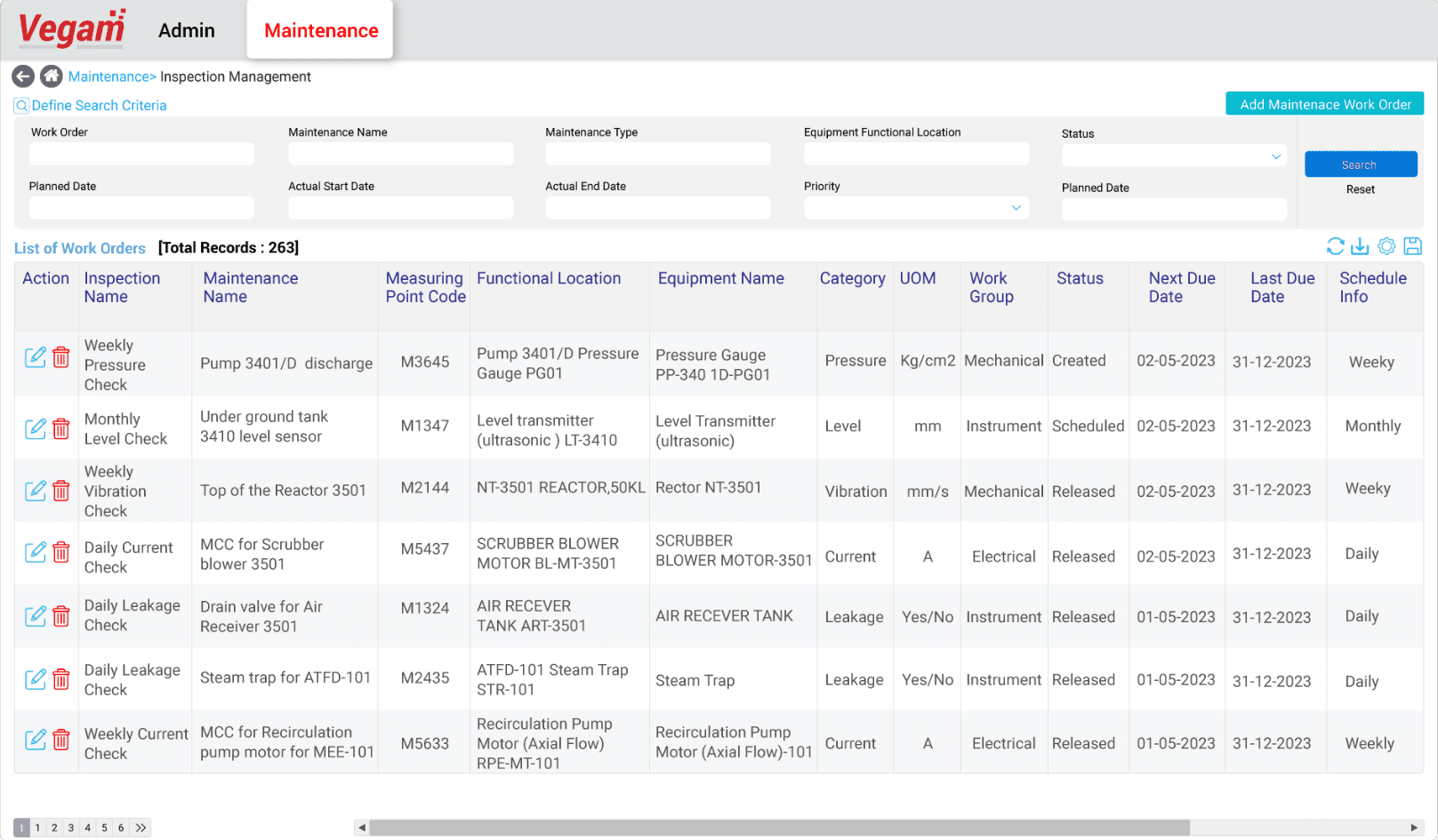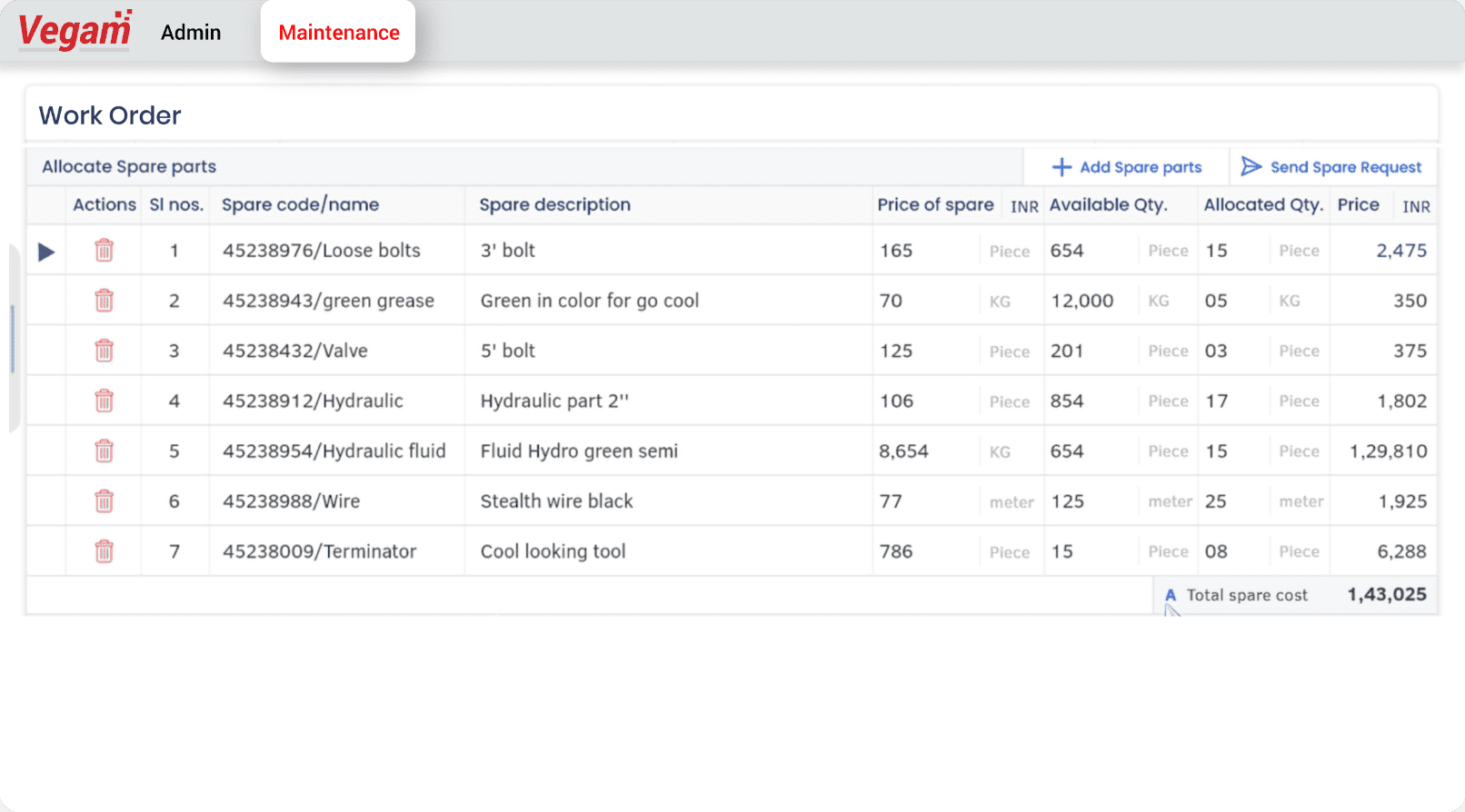 Optimized Spares Inventory
VMaint enables better management of spare parts inventory by providing accurate and up-to-date information on part quantities, locations, usage patterns, and reorder points. It helps in maintaining optimal stock levels, reducing excess inventory, and avoiding stockouts. This ensures that the right parts are available when needed, minimizing equipment downtime and maximizing maintenance efficiency.
Manpower is an important resource in the execution of any Work Order. vMaint records the actual manpower used for executing any Work Order. This gives a direct insight into the Mandays required for executing different types of Work Orders during a specified time period. Additionally it also gives the Cost impact of using this valuable resource. This feature is also able to account for the different variables in the type of manpower like Permanent/ Contract, Skilled/Semi Skilled/Unskilled, Mechanical/Electrical/Instrumentation etc.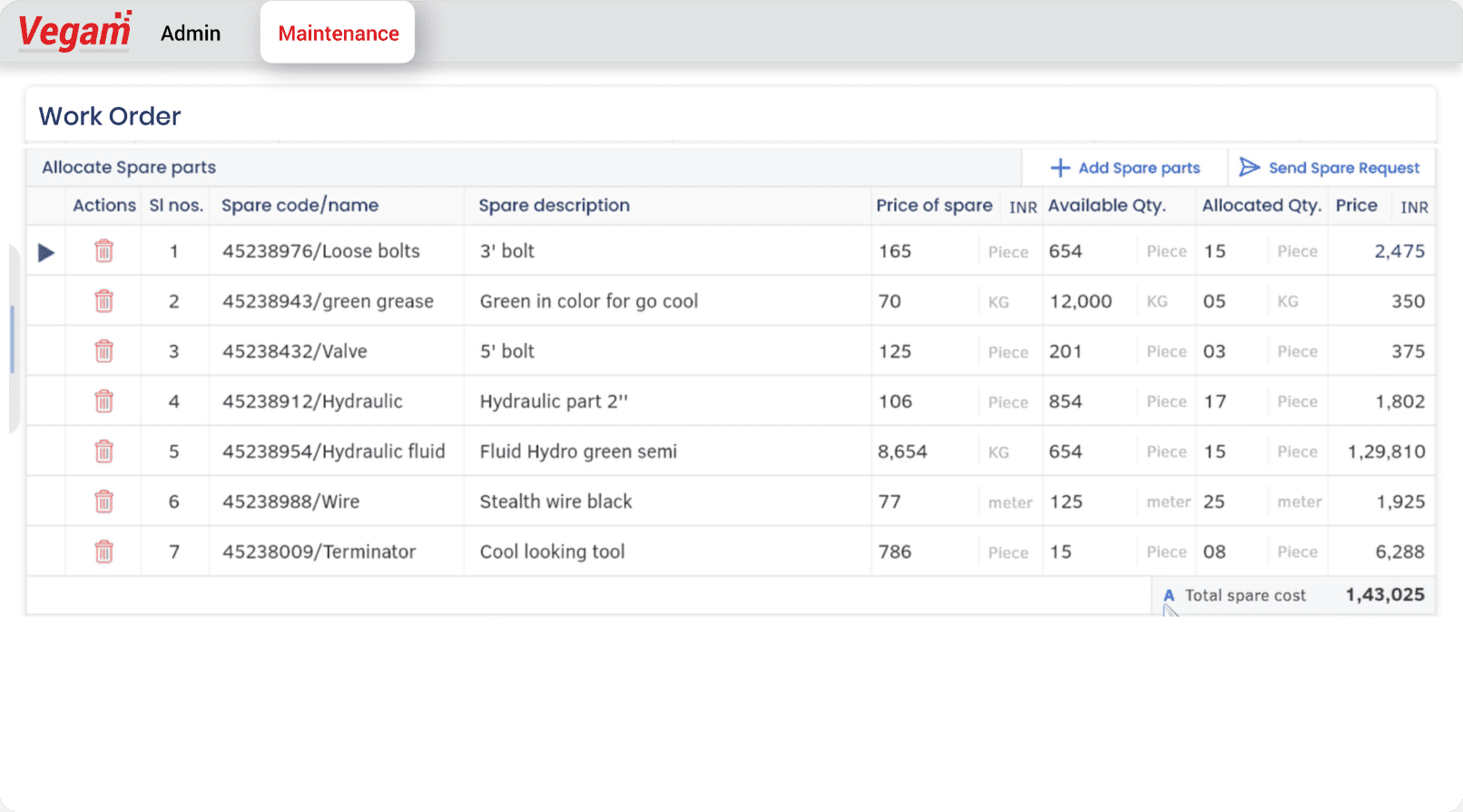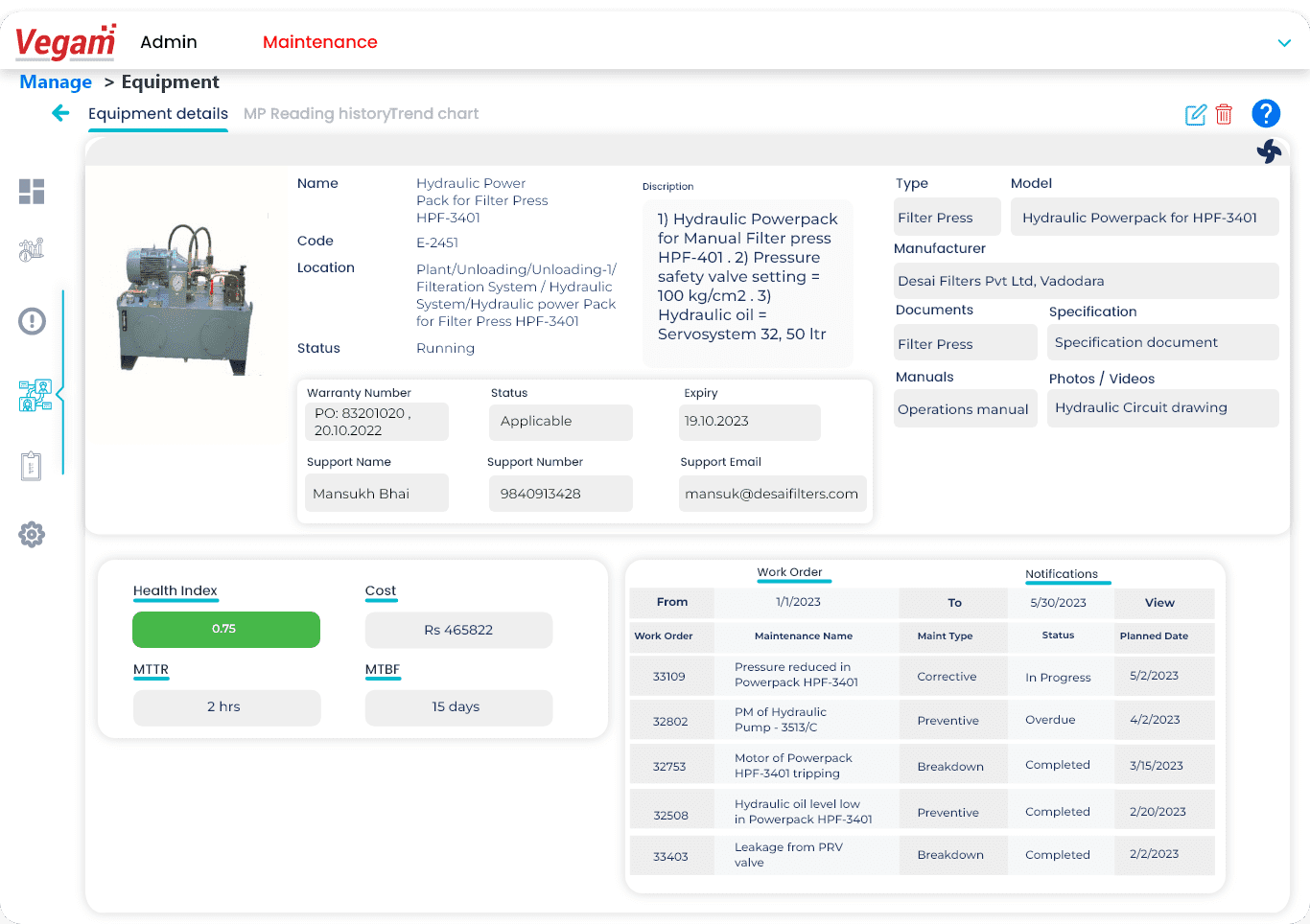 Historical Data and Insights
vMaint stores comprehensive maintenance records, including work order history. It allows you to analyze data, identify trends, and make data-driven decisions for improving maintenance strategies, resource allocation, and equipment performance. Equipment history allows you to keep a detailed record of all maintenance activities performed on each piece of equipment.
Downtime trends is an important aspect of maintenance management to identify patterns, understand the root causes of downtime, and implement effective strategies for reducing it. This results in improved asset availability, increased productivity, and enhanced operational efficiency.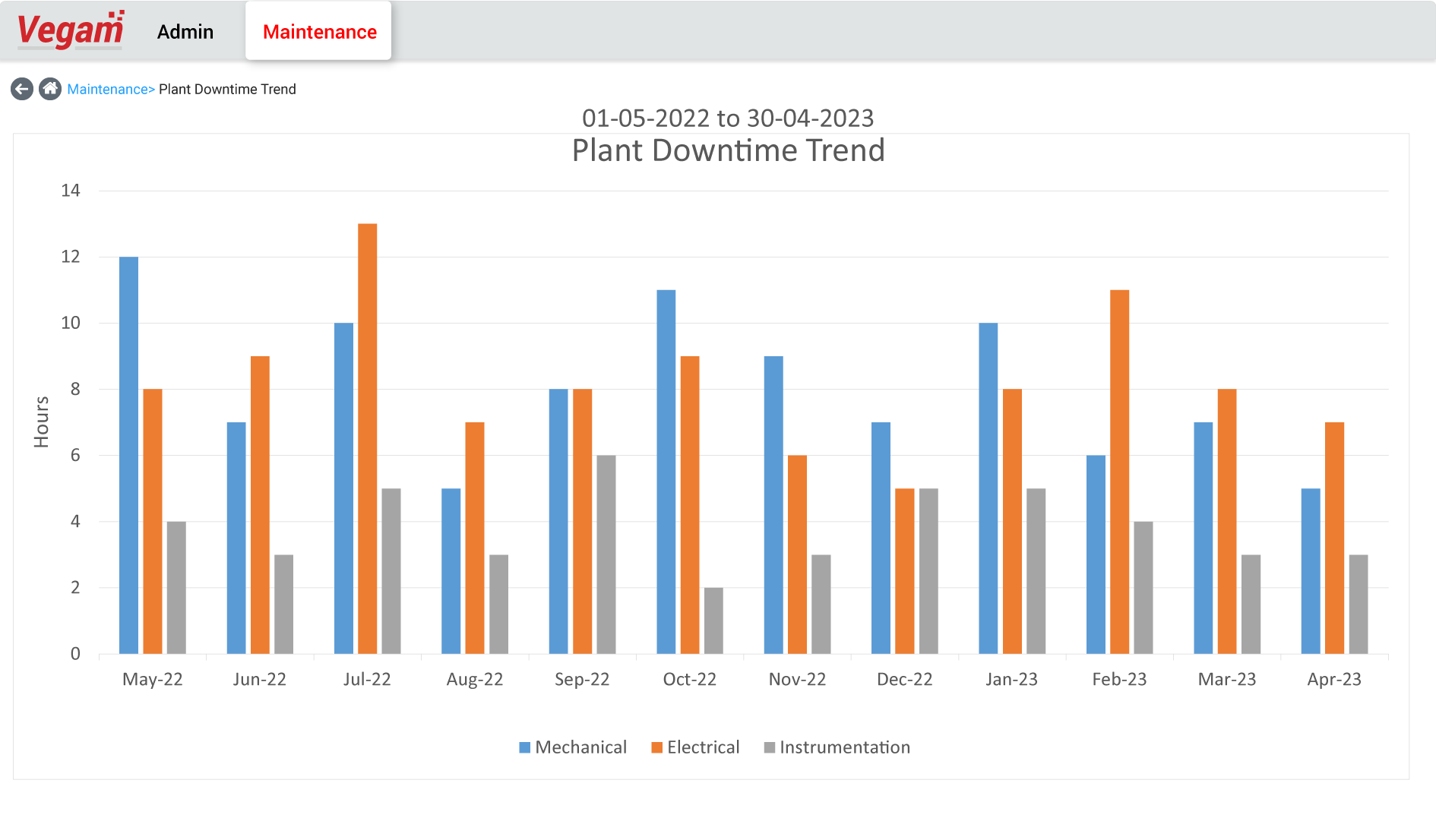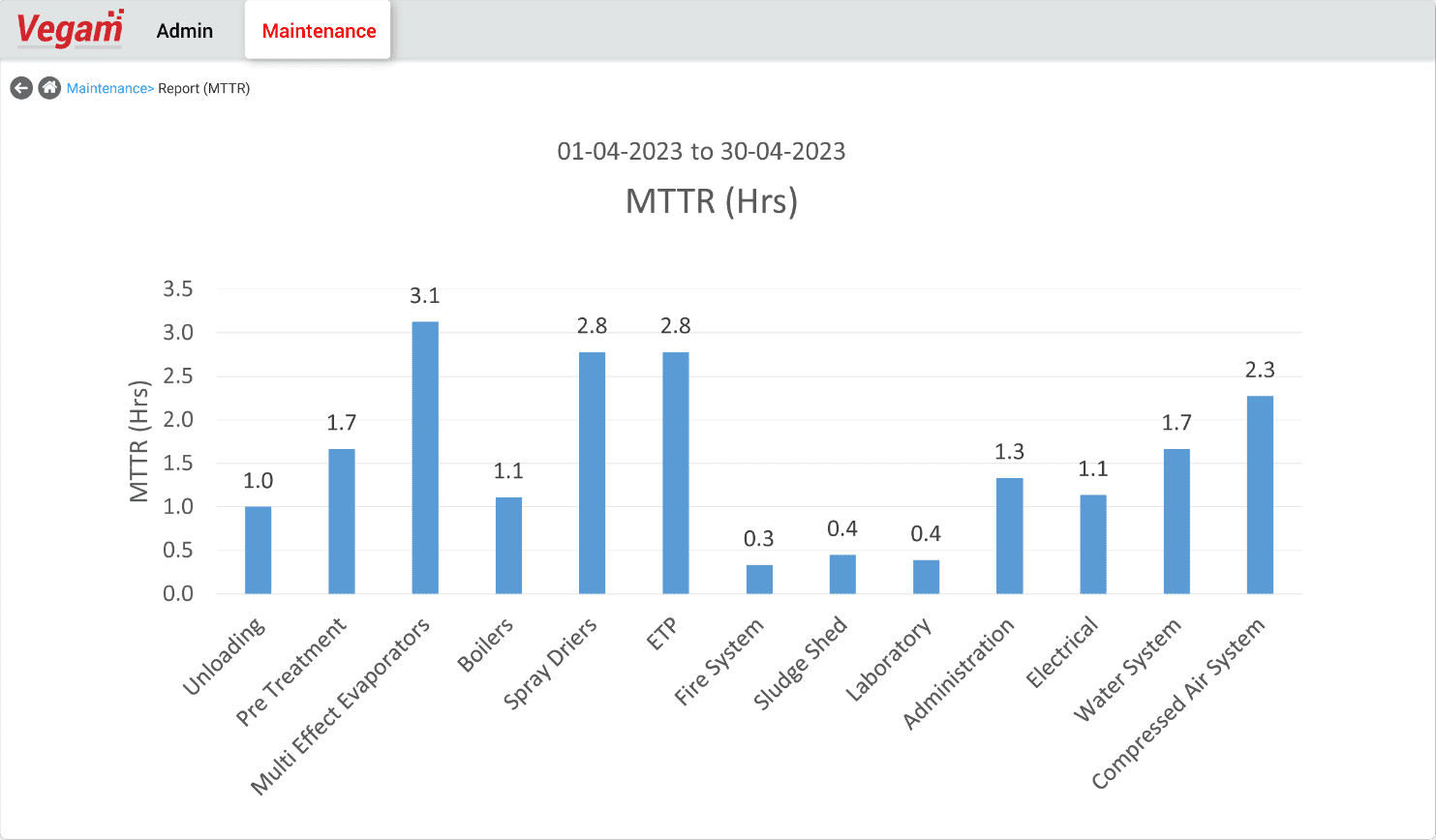 MTTR and MTBF reports provide data-driven insights for decision-making. By analyzing these reports, you can make informed decisions regarding equipment replacement, repairs, upgrades, or modifications. This helps optimize maintenance strategies, control costs, and improve overall equipment reliability.
VMaint mobile applications enable technicians and maintenance teams to access work orders, equipment data, and instructions instantly from their mobile devices. They can update work statuses, record maintenance activities, and access relevant documentation without the need for manual paperwork or returning to a central workstation. This streamlines workflow, reduces administrative tasks, and increases overall maintenance efficiency.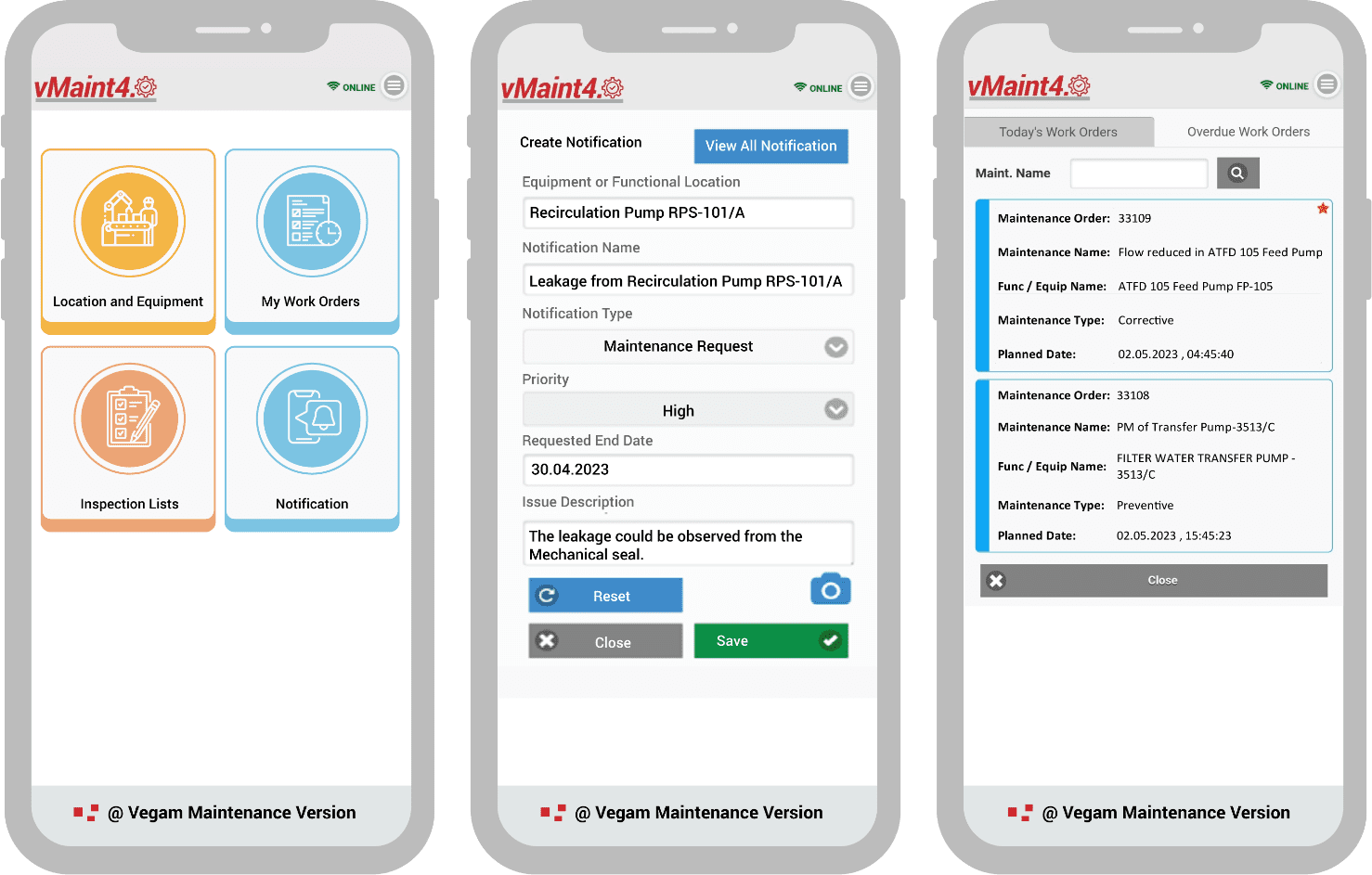 Frequently Asked Questions ?
Unlike some other CMMS , there is no limitation on the number of equipments which you can manage.
You only need one licence for one plant, irrespective of the number of users.
vMaint application is web browser based application. It can be accessed from any machine which has compitable web browsers installed and is has sufficient configurations to run Browser based application.
This software can be used online with a user name & password only
No, any user with a mobile device can use this function.
No , you can print the barcode with the barcode generator built into vMaint app.
vMaint web application can work with the following browsers:
  Chrome
  Firefox
  Safari
  Edge
  Opera
Internet Explorer is no longer supported.
Pricing is based on the number of equipments in the plant & does not depend on the number of users.
vMaint software is cloud-based.
Yes, our mobile application supports Android, iOS and Windows. 
vMaint supports a wide variety of currencies.
The technical support (25 tickets per month over email ) is included with the subscription fee.
We use 256 bit SSL encryption, minimum password strength algorithms, multi-server/geography daily back-ups and much more.
Yes, vMaint Software has Single Sign On (SSO) enabled.
Turn your factory to a
smart factory
Choose your industry type